When it comes to sugar and spice and everything nice, you'll find the most adorable baby girl birth announcements at LookLoveSend. If you're going to design a custom birth announcement, why not go all the way and specialize it for your precious little girl? That's why we've put together a selection of different templates celebrating your brand new daughter. Whether you want cute or classic or even one with her picture on it, we've got what you're looking for. LookLoveSend will help you announce your baby's birth in style.
Create Baby Girl Birth Announcements Today For Your Special Day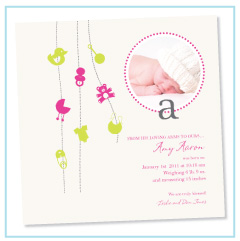 It's certainly a special day when you make the addition of a baby girl to your family. That's why we know you'll want to announce it to the world in a very special way. That's exactly what you'll be doing when you get your baby girl birth announcements from LookLoveSend. We've devoted an entire collection to babies with custom birth announcements including specialized cards for multiple births, baby shower invitations and thank you cards. Get your baby stationery from us and coordinate it all. Don't waste time worrying that a card you created online won't be up to par. With our quality paper and inks, you'll be hard pressed to find anything better, even from a professional printer.
We're honored to be entrusted with the announcement of your baby's birth. We know you want nothing but the best, so we've put a 100% satisfaction guarantee in place when you make your baby girl birth announcements online with us. If for any reason you don't love your announcements, we'll either re-print your cards or refund your purchase price within 30 days from the date of your invoice. Don't announce the birth of your daughter with a packet of mass-produced cards you get at the local market. Start her off right by creating a custom announcement just for her.
When you think of baby shower invitations make your own is not an idea that comes to most peoples' minds when they want a professional and beautiful invitation, right? Luckily, when you create your invitation through Looklovesend, you can create your own gorgeous invitations at relative ease, at an affordable price.
Learn About Baby Shower Invitations Make Your Own Today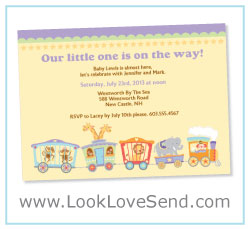 Most folks think that in order to get quality, they have to buy overpriced baby shower invitations – make your own! When you make baby shower invitations online, you can pick the specific font, color, themes, patters, and templates that fit the mood of your party. Whether you are going for fun and light, or sophisticated and elegant, you can create your perfect invitation. There is no need to settle for mass-produced, generic, over-done invitations found in stores and boutiques. You can even include pictures of the guest of honor for a personal touch. We use the highest quality papers and inks in our printing. Folks can choose between a photo-finish paper or a smooth matte, depending on their personal taste.
You may be thinking, "baby shower invitations make your own; What's the catch?" There is no catch. If you receive your purchase and are not pleased with your order, simply send them back for a full refund. We are so confident in our service that we offer a 100% satisfaction guarantee to customers. There is nothing to lose. You will not find that promise anywhere else online. We also grant customers free domestic ground shipping on orders of 50 cards or more. We work hard to please our customers. We understand how important these special events are to you, your family, and closest friends. Whether you are creating invitations for a graduation, wedding, or baby shower, you deserve the best for your life's precious moments.