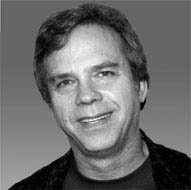 Don Baker
Designer for LookLoveSend


Hello! I am a freelance artist and designer living in Seattle. Although the visual imagery I create often lives a short life and has relatively limited visability in the world of advertising, it is very fulfilling to create designs that have more longevity and that people will continue to use, such as on fabric and scrapbooking collections.
The inspiration for my designs comes most often from my own garden as well as from walks through parks and in the Olympic mountains. I find inspiration along the edges of places, where nature has been overlooked and consequently explodes in riots of growth and beauty. It doesn't seem to matter where I walk, as the ever-changing seasons gives rise to new growth and interaction among the various plants, which always offer their gifts to me if I look closely enough to notice them. Being an avid journaler, I am always on the lookout for intriguing shapes, colors, patterns, textures, shadows, negative space, and unexpected discoveries that lead me in new directions.
I am very excited to be a part of LookLoveSend. I love that the designs we create become a part of some of the most important events in people's lives. That is the best reward!
view all designers