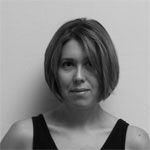 Yana Beylinson
Designer for LookLoveSend


As long as I remember myself, I loved drawing and painting, and there was never a doubt in my mind about my future profession. I knew I wanted to be an artist.
I studied fine art in Russia, and continued my education in Baruch College and then the School of Visual Arts, with emphasis on graphic and web design. I currently have my own design business, working with a lot of wonderful companies on a wide variety of projects. They range from web design to logo design to illustration, and allow me to do what I love doing – bringing beauty into people's lives.
I live in NYC with my husband and two boys. I paint, draw, design, and do yoga every day. And I absolutely love to be a part of the LookLoveSend team, working with great people and creating beautiful stationery!
view all designers