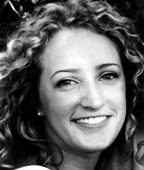 Charla Weaver
Designer for LookLoveSend


Looking back, it seems logical that I would become a graphic designer. As a kid, I collected business cards like other kids collected baseball cards or Beanie Babies. I was obsessed with layout and design from a young age. I was also raised in a family that valued hard work, craftsmanship, and ingenuity. My parents created things with their hands---anything from quilts, to picture frames, to furniture. That hand-made aspect deeply affects the way I approach design. I value creative, clean, well-crafted pieces that feel one of a kind.
I love creative ideas. Whether it's a movie, a party, a photo, or branding, I make my living on creating and promoting inventive ideas and dreams. After high school I lived and traveled from Europe to Asia for two years, and always came to the same conclusion - that people all over the world love things that are innovative and designed well. These things hold meaning for us in ways we can't necessary define, but when we see them we know.
LookLoveSend is the perfect place to find exactly what you're looking for. The designs are created not just to announce something, but also to express the feelings behind our lives' most valued events.
view all designers