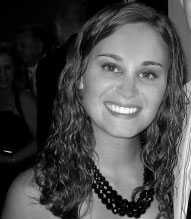 Lauren DiColli Hooke
Designer for LookLoveSend


I've been drawing as long as I can remember, and have always wanted to be an artist. I love to design, and love that it is such a dynamic and ever-evolving field. Playing with color, discovering new font families and finding new inspiration keeps my work fresh. I would describe my style as elegant, modern, romantic and playful.
I studied Graphic Design at Moore College of Art & Design in Philadelphia, Pennsylvania, and graduated with my BFA in 2002. Since then, I have had the privilege of working with clients all over the country - from restaurants and retail to builders & brides-to-be.
I discovered my knack for designing invitations when I was creating my own "love birds" themed wedding suite. Since then, I've been doing custom designs for friends and family, and I"m so excited to be joining LookLoveSend's team of artists.
I currently reside in Miami Beach with my husband David and son Ryan. When I'm not designing, I love live music, practicing yoga and traveling.
"Art, is why I get up in the morning." -- Ani DiFranco
view all designers