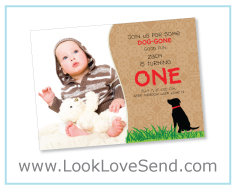 If you're wondering how to make birthday cards for your friends or family, consider the unique designs and easy customization available at LookLoveSend. You can find many exciting, energetic designs in our collection of birthday party invitations for all ages on their website. Best of all, you can customize a design you like with your own wording and even upload a photo to personalize it more.
How To Make Birthday Cards that Stand Apart
When you want to make birthday cards that guests will remember, count on the originality of LookLoveSend's designs. Our designs are created by real artists located around the country, so you won't see the same patterns and images used elsewhere. Our talented artists bring fundamental art skills such as painting, ceramics and hand-drawn illustration into the designs, so they are fresh, exciting and completely unique. In addition, all invitations are printed on premium quality paper stock using rich inks that makes the design look even better in real life than on the computer screen.
Another thing to consider when you are wondering how to make birthday cards that are memorable is to follow them up after the party with thank you notes of the same quality. At LookLoveSend, you'll find a wide selection of thank you notes in every style, many which coordinate with our invitations. Style choices range from classic to modern, and incorporate a wide range of elements such as floral patterns, bold stripes, art deco imagery, vintage flare, and much more. For kids' invitations in particular, our choices of invitations include designs for for all ages, from the milestone first birthday party through the elementary school age years on up into teen years. So whether you have a toddler turning two or a sweet sixteen, you are sure to find a design and style that works for you.
Next time you are wondering how to make birthday cards that are unique and exciting, visit LookLoveSend and shop their collection of party invitations, thank you notes, and other customizable special occasion stationery.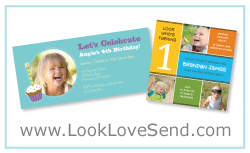 If you are the creative type, you may like to make birthday cards online for friends and family.  There are all kinds of ways to make birthday cards online, but for high quality designs you can customize, LookLoveSend offers many options for your next party planning endeavor.
Make Birthday Cards Online with Great Designs
LookLoveSend will get you excited to make birthday cards online when you see our fabulous selection of designs. Our online birthday cards are party invitations that can be customized with a personal photo and with text worded exactly how you want. You can choose a font style and size to make your wording fit, and if you need extra help, LookLoveSend's experienced customer service team is available to you toll-free or through online chat to help you along the way. You can order quantities as low as 10, but if you order 50 cards or more, you'll enjoy free domestic ground shipping.
Be ready with your party information before you start customizing your card. Have the following information at hand:
Who the party is for:
Using just a first name is fine if guests know the party girl or boy well, but include a last name if the group is larger and includes classmates whose parents may not know your family.
What the party is about:
If it's obviously a birthday party, you may want to include information about a theme, games or other activities planned so guests know what to expect and feel prepared with the right attire.
When the party will occur:
Include date, day of the week and time, including an approximate ending time.
Where the party will take place:
For GPS purposes it's helpful to include an address.
RSVP:
It's a good idea to include your name along with both a phone number and email address.