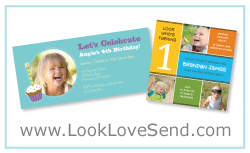 If you are the creative type, you may like to make birthday cards online for friends and family.  There are all kinds of ways to make birthday cards online, but for high quality designs you can customize, LookLoveSend offers many options for your next party planning endeavor.
Make Birthday Cards Online with Great Designs
LookLoveSend will get you excited to make birthday cards online when you see our fabulous selection of designs. Our online birthday cards are party invitations that can be customized with a personal photo and with text worded exactly how you want. You can choose a font style and size to make your wording fit, and if you need extra help, LookLoveSend's experienced customer service team is available to you toll-free or through online chat to help you along the way. You can order quantities as low as 10, but if you order 50 cards or more, you'll enjoy free domestic ground shipping.
Be ready with your party information before you start customizing your card. Have the following information at hand:
Who the party is for:
Using just a first name is fine if guests know the party girl or boy well, but include a last name if the group is larger and includes classmates whose parents may not know your family.
What the party is about:
If it's obviously a birthday party, you may want to include information about a theme, games or other activities planned so guests know what to expect and feel prepared with the right attire.
When the party will occur:
Include date, day of the week and time, including an approximate ending time.
Where the party will take place:
For GPS purposes it's helpful to include an address.
RSVP:
It's a good idea to include your name along with both a phone number and email address.