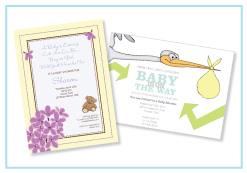 When shopping for the best online invitations, it's a good idea to understand that quality isn't always evident with what you see onscreen. There are several key things to ensure that the invitations you receive in the mail are just like the invitations online that you ordered.
The Best Online Invitations Are 100 Percent Guaranteed
The first thing to look for when you are trying to find the best online invitations is a guarantee for 100 percent customer satisfaction–no questions asked. This is central to high quality companies like LookLoveSend. We state it right up front on our website homepage that if you aren't completely satisfied with your order, we'll take it back and reprint it at no cost to you–except for shipping.
We offer this guarantee because of our confidence in the quality of our designs, papers, print and customer service. LookLoveSend.com brings artistic talent together with world-class printing, and we don't lose sight of the high touch service today's shoppers depend on. One way we make sure your will be satisfied with your order is to send a digital proof of your invitation before it goes to print. We don't print–and you don't get charged–without first obtaining your approval!
Another element in this high touch service is offering our customers a way to make special requests as they customize their invitations online. You'll see a 'special instructions' box with every card you customize, and our customer service team will do everything in their power to accommodate your request in order for your card to look its best. Lastly, we try to make the risks for mistakes foolproof by requiring that you check off that you have checked for spelling or information errors before you submit your order.
Next time you are shopping for online party invitations, LookLoveSend is the best choice to be sure you'll receive the best online invitations because of our steadfast guarantee of quality and satisfaction.