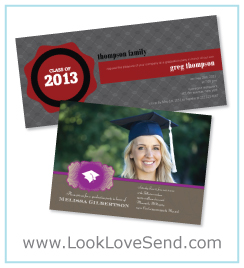 Sending graduation party announcements involves more than simply stating the date, place and name of the grad on a nicely-designed card.  Whereas guests typically know what to expect for a wedding or baby shower, a graduation celebration can vary greatly from a formal black tie reception to a casual backyard barbeque. A good host will always be sure to let guests know what to expect.
LookLoveSend.com offers a fresh selection of graduation party announcements, all printed on high quality paper stock that is sure to impress your guests.  But as you peruse our great selection of fun celebratory designs, be sure to keep the following helpful tips in mind as you customize your graduation invitation text.
Tips for Graduation Party Announcements
Be sure to clarify if guests are invited to the commencement ceremony, graduation party, or both.  Most schools and colleges offer a limited number of ceremony tickets so be sure you are very clear about the event at hand.
Make a recommendation about the formality of the event so guests will feel comfortable with their wardrobe choice and not need to ask any follow-up questions.  Some common attire descriptions are: Smart Casual, Casual, Cocktail Dress and Black Tie Optional.
If you want guests to be involved in creating something special for the graduate, be sure to include it on the invitation. An example would be to bring a photo if you plan to create a photo album or memory journal for the grad.
Don't be afraid to make your graduation invitations as unique as the grad himself!  It's perfectly acceptable to highlight any special accomplishments, sporting achievements or even a celebration of post-graduation plans on the invitation. Choose LookLoveSend to easily customize your graduation party announcements  – we promise full customer satisfaction and all orders ship the next  business day.