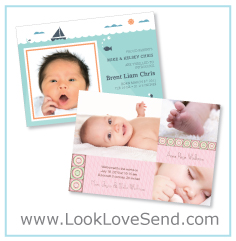 The online birth announcements that new parents shop for look so great partly because the babies that appear on the samples are professionally photographed. But the other reason besides model babies and professional lighting is that the baby photo somehow coordinates perfectly with the card design. Of course this is done intentionally, because the designer who designed the card deliberately chooses a photo that make the design look it's best.
You can also achieve this very same stylish, pleasing look to your own birth announcements with your baby's photo. In fact, instead of choosing a design you like first, keep an open mind when shopping online birth announcements and let the photo be what determines which card design you choose. Don't try to fit your photo into a design you like if it doesn't work.
Consider Design When Shopping Online Birth Announcements
The main thing to keep in mind when you are shopping online birth announcements is visual balance. For example, balance a card design that has a lot of color or graphic details with a single black and white photo. Or try a close-up shot in a card that has a lot of color and pattern rather than a full body shot. A simpler card design, on the other hand, could balance multiple photos of baby that consist of lots close-in details, like baby's feet and hands.
LookLoveSend makes it easy to preview your baby photos in different design layouts with a high-resolution, close-up view. That way you can see how your photo will look on the card before you buy. The easy-to-use photo customization tool allows you to play around with your favorite photos, zooming in or out and applying different color treatments, including sepia tones or black and white. All online birth announcements are printed on your choice of high quality, heavy weighted matte or glossy papers.