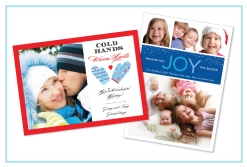 The number of sources for buying online holiday cards only continues to grow, making your seasonal online shopping experience both easier and more cumbersome at the same time. But while many sources claim to offer the latest styles, sometimes trendy isn't what you're looking for. When it comes to the tradition of purchasing custom holiday cards, it's important to stick to something that reflects your personal tastes rather than follow a particular style trend set by someone else. In other words, be true to yourself!
Your Source for Oodles of Styles in Online Holiday Cards
You won't find a more diverse selection of styles than the online holiday cards offered through LookLoveSend. Whether you want to include a personal photo or rather just send an inspiring holiday design to friends and family, LookLoveSend has hundreds of beautiful designs created by artists from around the country. This diverse group of talent brings a mix of perspectives on the holidays to create a single showcase where you can easily shop for your personal favorite.
From traditional color schemes to more contemporary uses of classic holiday colors, many of LookLoveSend's designs are available in several color palettes from which you can choose. You'll find interesting uses of holiday-inspired imagery and patterns in unique color combinations, such as snowflakes, holly, ribbons, candy and packages. Bold, modern interpretations of holiday themes are everywhere, as well as understated applications that inspire the romance of the season too.
To help you cull through our selection of online holiday cards, think about your taste in colors, images and whether you want a more classic, traditional look or something more modern or even whimsical. You will not be disappointed with the selection of styles LookLoveSend offers, and you will be delighted over our print quality and premium heavy weight paper stock used for all cards and coordinating envelopes. Our quality is unmistakeable when you hold a LookLoveSend holiday card in hand and will delight everyone on your holiday card list.