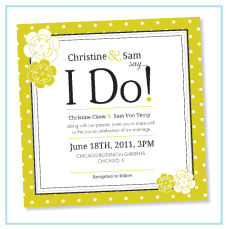 There are a lot of benefits to using an online wedding invitation maker when it is time to plan how you are going to deal with wedding invitations. The major advantage ends up being pretty simple; you can design the invitations on your own time. When you get your invitations done in a physical location you are always waiting on someone. Maybe the example invitations binder is with another couple, maybe you have to wait on the printer to see exactly how your invitation will work, or maybe the store is simply closed when you want to work on your invitation.
Our Online Wedding Invitation Maker Has The Options You Need
This is when you need an online wedding invitation maker. You can work on your invitations on your own time. Besides allowing you to make your own look and feel to all of your invitations, you also get to work on them more and get your invitations done more quickly. Imagine being able to see how different things will look on your invitations immediately. You know what will and will not work as soon as you think up the idea. That means no more waiting for a sample invitation from a printer or trying to compare different kinds of invitations. That is a huge plus.
You can use LookLoveSend, one of the best wedding invitation websites, for a lot more than an online wedding invitation maker. You can buy predesigned invitations for a lot of different occasions, including weddings, birthdays, religious occasions, graduations, or just a regular party. There is really no limit to what you can build using our easy invitation maker. And since we offer the highest quality cards made of the best paper and printed with the best ink, your invitees are going to have a great impression from the moment they get their invitation in the mail. When you think invitations, simply think LookLoveSend.