Save the date cards for weddings templates are just one aspect of the total wedding stationery collection we offer at LookLoveSend. "Save-the-dates" have been used in a variety of ways, although they do have a very specific purpose in the world of wedding etiquette. Some bridal couples have chosen to use them in place of invitations altogether, while others use them as the invitation but in coordination with the announcement. Although individuals can certainly pick and choose the cards they wish to use, save the date cards are meant to be used as part of the entire stationery package, being sent up to a year prior to the wedding and in addition to the announcement, the invitations, the response, reception, and gift enclosure cards.
High Quality Save The Date Cards for Weddings Templates For You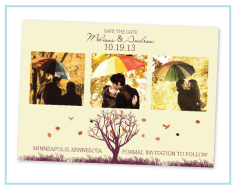 That's the great thing about using our save the date cards for weddings templates at LookLoveSend. We offer the entire line of wedding stationery. That allows you to select which cards you want to use–just one or two or the entire line–and coordinate them all. Not only does our exclusive online software help you choose a template, personalize it with your information and upload a picture of you and your fiancée, but it offers you direct links to the matching invitations, response cards, save the date cards wedding, and reception cards and programs. Whichever cards you want to include in your personal wedding stationery, our software will take you directly there.
Saving you time and money while providing you with the most professionally printed cards you'll find anywhere is our goal. You get to pick the wedding cards of your dreams and order only the amounts you need. No excessive minimums here, so there's more in the budget for everything else. Take a look at the save the date cards for wedding templates we've designed for you—we know you'll find something special for your very special day.