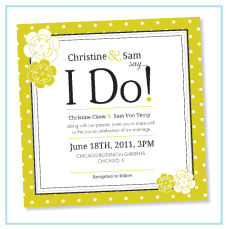 Every couple that is about to be married wants unique wedding invites. Something that shows who you are as a couple and that gets across your tastes. But it can be extremely hard to do that when you are shopping for invites from regular stationary or wedding shops. It seems that they all have a few invitation templates that they push more than others, or that their invitations are all very similar. And it makes sense that it is that way, when you think about it. They have a reputation as a business, and they want their custom wedding invitation to match that reputation. So what can you do when you want really, truly, unique wedding invites?
Unique Wedding Invites For Your Special Day
A lot of couples go for the do it yourself approach. This is a great way to do it if you can spare the time and have the ability to do so. A lot of couples do not want to spend their time making their invitations, so the next best place to get your unique wedding invites is right here at LookLoveSend. Using the internet to make your own wedding invites is a great way to get your own personal look and feel on the invites but also save yourselves a bunch of time and money in the whole process of designing and ordering invitations.
LookLoveSend is not only a great place to make your own wedding invitations, but it is also a great place to make any kind of invitations. Birthdays, parties, special events, or religious occasions create invitation needs, and you can design your own invites for them. For your wedding or next big party, go a different route with your invitations and design them yourself online. Save a bunch of money and time and get your unique invitation designs done right here with LookLoveSend.