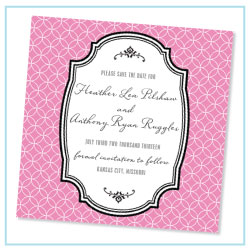 In the evolving etiquette of weddings, sending out a wedding save the date card has become customary prior to sending out the official invitation. Although some people who have opted for ultra-informal weddings have chosen to send out save-the-dates in place of invitations, the intention of save the date cards is to announce your wedding date to the guests who will definitely be invited. As the name of these nifty little cards suggests, it gives your guests a "head's up" and urges them to "save the date" so that nothing else will keep them from attending your special day.
Get A Wedding Save The Date Card Soon
At LookLoveSend we specialize in helping you design a wedding save the date card that will coordinate with the rest of your wedding stationery. Even though you don't necessarily need to send a save the date card to everyone on the invitation list, you'll want to send one to everyone that you absolutely want to attend. By getting save the date cards that coordinate with your invitations, response cards and thank you cards, you'll be setting the stage for your matchless, unique wedding to be the event of the season.
Whether you want your wedding save the date card, invitations and the rest of the stationery to be sweet and simple or elegant you can find what you're looking for at LookLoveSend. We'll help you design the stationery of your dreams and personalize it with all your details in colors to coordinate with your wedding. We even have options that allow you to upload pictures of you and your fiancée, making for a truly personalized one of a kind save the date card. We only use the best quality paper and inks to assure your satisfaction with your order, so don't wait. Order your save-the-dates today so your guests can save the date as soon as possible.