We all love a good holiday photo card; it is just nice to see all of your friends no matter how far away they live during the holidays. It seems that everyone has one or two of the best holiday photo cards hanging up year round, and if you want your holiday card to be like that, then you have to get it printed in the right place. LookLoveSend is the place to get all of your holiday cards printed because we understand how important those cards can be, and we get them printed fast and correctly.
Choose The Best Holiday Photo Cards For Your Event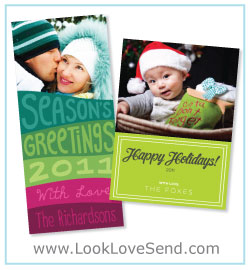 One of the biggest headaches when it comes time for holiday cards is selecting the card itself. You can go with the premade boxed cards and include a photo, but that just does not seem original. A lot of people go with photos with a holiday message printed, but it can be hard to get them printed with stationary shops, and printing them yourself can be extremely expensive. The online holiday photo greeting cards maker at LookLoveSend is the answer here. You can see exactly how your card will look and you can pick the best holiday photo cards with ease, since you can change them around right there on our website.
The best holiday photo cards are not only a joy to see, but a joy to make. And that is how you will feel about your cards when you make them at LookLoveSend. Not only do you get to save time by making your own cards online, you get to save a bunch of money too. You can buy as many or as few cards as you need for the holidays, but also enjoy the low prices we have at LookLoveSend. So when it comes to send out your holiday cards, just come right on back to LookLoveSend and enjoy the whole process.