Finding the perfect, unique Christmas holiday cards in stationary stores can be tricky. Too often they are generic, boring, and you wind up having the same cards as your friends and family members. They can also be quite expensive. When you order through Looklovesend, you can actually design your very own Christmas holiday cards that fit your tastes at a great price. In fact, many customers have been so pleased with how their Christmas holiday cards turn out that they return to order cards and invitations for their graduations, birth announcements, weddings, and other special events.
Try Our Christmas Holiday Cards This Coming Season!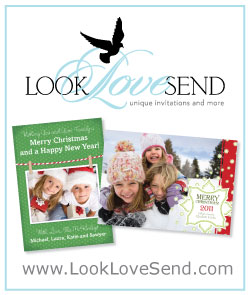 Many families send out holiday cards as a way to keep in touch with family and friends. When you send our a holiday card, you want to represent your family's unique style and personality. Whether you are looking to create a traditional card or something light with some humor, you can create whatever you are looking for through our website, even customized Christmas cards. We provide our customers with some creative freedom when creating their cards. We cater to folks who celebrate a number of different holidays – be it Christmas, Hannukah, Kwanza, and more!
Quality is important to us. We print our cards on the highest quality papers with the highest quality inks. We offer a number of fresh designs and modern layouts to our customers. They have their choice of a variety of fonts, layouts, templates, themes, and more. They are free to add personal pictures, however many they choose to include, on their invitations as well.
Many folks choose to use Looklovesend for their Christmas holiday cards simply because we are so flexible. We do our best to cater to our customers by backing our cards with a 100% money back guarantee in case you are not satisfied. We also offer free domestic shipping on purchases of 50 cards or more. Not to mention, our prices are unbeatable!