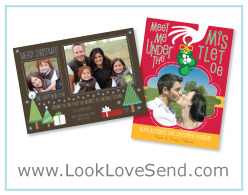 Between the mad rush of holiday planning, shopping and entertaining, the need to buy and send customized Christmas cards often sneaks up on us and causes added stress during the busy holiday season.  But this doesn't have to be the case.  Shop the fresh collection of Christmas cards at LookLoveSend.com to find a diverse set of designs from vintage or traditional to playful and bright.  And the best part is that all cards can be easily customized in minutes and orders will always ship the next business day.  Just perfect for that mad December rush!
Easily Customized Christmas Cards
The process to select and order your customized Christmas cards through LookLoveSend is easy.  If you choose to send a photo card, we recommend that you first select your photos.  There is no limit to the kinds of photos you can use: a family portrait, photos of your children, a snapshot from a recent vacation or adventure, or a funny candid of your family and pets.  After picking one or several photos, browse the many different card designs and layout options to find a style that complements your pictures.
Upload your photos and then perform additional customization to zoom in, reposition your image or apply black and white or sepia coloring if you wish.  You may wish to choose a folded card instead of a flat card in order to include additional images on the inside. Or you can use the extra space to write a longer note with news about the family you want to share. Several clicks later you are ready to proof and submit your customized Christmas card order for next business day shipment.
Customized Christmas cards with a family photo are always the favorite cards on any holiday mantle.  This holiday season, shop LookLoveSend to find a beautifully designed card to personalize quickly and easily, allowing you more time to enjoy that holiday planning, shopping and entertaining.