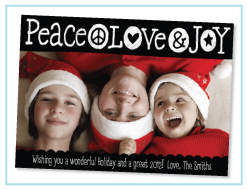 Everyone loves to send Christmas cards with photos, especially families with growing children, busy lives, and a long Christmas card list.  Online stationer LookLoveSend.com offers a broad collection of Christmas cards with designs that are diverse, original and fresh. But before jumping right to the card design phase, take a moment to reflect on the past year and the sentiment that you want to send to your family and friends.
Pick the Tone of your Holiday Greeting
The holidays are a great time to reflect on events of the past year.  Did you get married?  Have a baby? Change schools?  Go on a memorable family trip?  Think through the top three events of your year and what they meant to you and your family.  Considering the tone of these main family events will help to guide your holiday message and card design selection – whether it's a quirky scene of elves and snowmen or the elegant backdrop of swirling snowflakes.
Choose the Right Christmas Cards with Photos
After picking a tone and style for your card, dig into your family's stockpile of digital photos to find the perfect match between photo and card.  Vacation photos, sporting action shots and fun candids of the kids will portray the essence of a full and active family lifestyle.  Landscapes, nature-shots and even still-lifes can be both meaningful and beautiful. And if you can't find any photos that fit the bill, consider taking a few new shots for your Christmas cards with photos. Kids and pets are easily bribed with a well-timed holiday cookie.
Putting personalized Christmas cards with photos together online is easy and fast at LookLoveSend. After selecting your chosen card design, simply upload your photos and edit them for perfect image placement, size adjustment and color tone.  Simple text personalization is next.  And with all Christmas cards being offered in a flat or folded option, this is the chance to share a longer holiday greeting in the inside of any folded card.  After a final check, click to submit your order for shipment the next business day with guaranteed satisfaction to you.