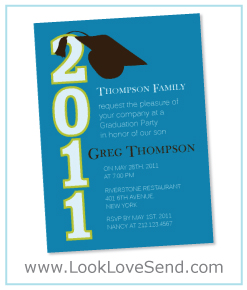 Whether you have several children close in age, a huge guest list, or simply a need to minimize the party budget, planning a low-cost graduation party is easier than you think.  Here are some tips on how to create a manageable guest list, find cheap graduation announcements, and provide great snacks without breaking the bank.
Create a manageable guest list
While your daughter may want to invite all her friends and team-mates, you may not want to invite every teen in town for cost savings reasons.  Most graduation parties occur on the same weekend as the actual graduation and this can mean a lot of parties on the same day!  Inevitably some guests will have overlapping invitations so this may easily help trim your guest list.  Another option to consider is hosting a joint party for graduates with many of the same friends – this offers great opportunity for a larger party and cost-sharing among two hosting families.
Find cheap graduation announcements
It may seem easier to print color copies on your home computer or send an emailed invitation, but the fantastic designs and superior quality of the cheap graduation announcements available at LookLoveSend.com will truly set your invitations apart.  All designs can be easily customized and many allow the addition of a personal photo via simple upload functionality.  If you decide to hold a joint graduation party, use a photo of the two graduating friends for graduation invitations that will be as memorable as the event itself.  Considering the quality and uniqueness of our designs you will be amazed at our selection of cheap graduation announcements.
Great snacks that won't break the bank
The easiest way to serve your guests is with a buffet.  Remember that not everyone will eat everything so offer a wide variety of simple party foods that require minimal preparation.  Most grocery stores and bulk retailers offer pre-assembled party platters, appetizers or family-style entrees during peak graduation party season, so take advantage of this variety and associated savings.