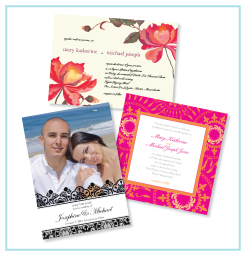 There are many reasons to create your own invitations. Most people attempt to make their own invitations thinking they can save money, or because they want originality. But another approach is to order invitations online. LookLoveSend offers a wide variety of invitations with highly original  designs by real artists. But LookLoveSend also gives you the ability to customize your invitations by writing your own text, uploading a personal photo, and choosing among color palates, font styles, and adding a return address to your envelopes.
Time and Material to Create Your Own Invitations
If you endeavor to create your own invitations, you are committing time and materials. In fact, you can potentially spend more than you planned if you have to purchase materials. Even with resourcefulness and creativity, using materials you already have, you also need to have the time. Consider how many invitations you would need to create before deciding whether to create your own invitations or buy them. For occasions requiring fewer than ten invitations, maybe creating your own invitations would be more economical than buying them.
Customize Your Invitations Online
LookLoveSend accepts orders for as few as ten invitations, so it's a good idea to browse their selection before you decide to create your own invitations. You will be impressed by the range in styles, fine details and options to personalize their invitations for your occasion. Their selection and quality is hard to beat. Extra design options include choices for color and pattern printed on the backsides of your invitations, deciding between flat or folded invitations, and adding coordinating envelope liners.
If you are really pressed for time, ordering from LookLoveSend means your invitations will ship the next business day after you place your order. If you order more than 50 invitations, domestic ground shipping is free. You can also choose a faster shipping option if needed.