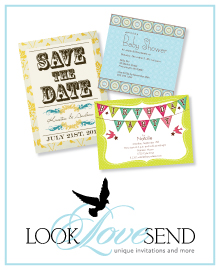 You will find an endless selection of party invitations online available today, but not all websites are equal. Shopping for party invitations online will likely lead you to designs that you like, but don't ignore the quality beyond the image on the screen. Just as you can't judge a book by its cover, you can't decide on ordering a party invitation online simply because you like how it looks.
Quality Matters When Ordering Party Invitations Online
The experts at LookLoveSend offer party invitations that are not only visually appealing, but also beautiful to the touch. The paper quality is immediately notable, since all party invitations and other stationery prints on heavier than average paper stock and comes in different choices of smooth matte or textured finishes. They also offer a high gloss option for designs with photo customization. Your invitations include envelopes of similar high quality, often with the option to include a coordinating liner for an added extra touch of quality.
In addition to high quality papers, LookLoveSend prints all orders in-house using their own state-of-the-art print presses and rich, bold inks. Your order is handled start to finish by this team of print and customer service professionals, and if they see any problem, they will contact you. An online "special instructions" box appears as you customize your party invitation so that you can ask for additional help if you aren't sure how it will look. You will always see a proof of your party invitation online to approve before your order gets printed so you can be sure it's exactly what you want.
The quality of your experience ordering party invitations online at LookLoveSend goes beyond paper and printing. They ensure a total quality experience, shipping your order within 24 hours of receiving it. And they guarantees your complete satisfaction; if for any reason you are not 100% satisfied with the finished product, they will take it back for reprinting at no additional cost (except shipping.)