Creating online invitations has never been easier, more affordable, and fun! Whether you need to create an invitation for an upcoming wedding, bridal shower, graduation, or baby shower, there is a card that is sure to perfectly suit the occasion when you create it through Looklovesend.
Start Creating Online Invitations Right Now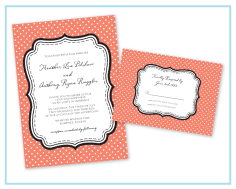 Finding an invitation in stationary stores that is unique, creative, and stylish can be difficult. Most designs found in stores are generic and overdone. One of the main reasons why customers like creating online invitations is that they actually get to take part in the design process. They choose which colors, templates, fronts, and designs fit the tone of their event. We give customers a choice of which size of paper they prefer, as well as a choice between matte or photo-finish paper. We print on only the finest quality paper, ensuring that when your friends receive your invitation, it looks sharp and classy.
Perhaps you feel like creating online invitations seems too risky. What if you get your order in the mail and don't like how they look? No problem! Looklovesend offers a 100% satisfaction guarantee on all of their products. If you are not pleased with your order, simply send it back for a full refund. We are that confident that you will be pleased with your creation. You have literally nothing to lose by giving us a try. We also offer free domestic ground shipping on orders of 50 cards or more.
Creating online invitations has never been easier. Whether you are looking to create bridal invites, birthday party invites, baby announcements, or holiday cards, you can easily create something to fit the occasion. Customers appreciate our affordable prices and the chance to create exactly what they want, instead of having to settle for what is available to them in stores. Try us today.