Whether it's a first birthday, kid's birthday, teen or adult, you'll impress everyone when you make birthday invitations online with LookLoveSend. We've got the designer templates you can't find anywhere else in the color schemes you're looking for to make this the best birthday ever–and you control it all. We've just taken care of a few odds and ends to get you started, but the invitation you send out will be one that you crafted, something you fashioned using our resources and your creativity and good taste.
Start To Make Birthday Invitations For Yourself Now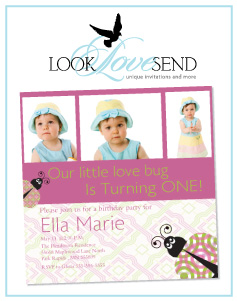 There may have been a time when home-making invitations was tacky at best, but that was before you could make birthday invitations online at LookLoveSend. We're not talking construction paper and glitter-covered macaroni here. The invitations you get from us will be your creation printed with the best quality inks on premium card stock–something you'll probably have a hard time convincing your friends didn't come from a professional printer. These invitations will do you proud because there is so much of your own personality fashioned into each one.
We've done all we can to make it as easy as possible for you to make birthday invitations online with our custom software that takes you step by step through the process. Just pick one of the designer templates to make birthday cards online. You can make color selections, too, to match your theme or the birthday boy or girl's favorite color. Then fill in the blanks with the date, time address and names. You're almost finished, unless you'd like to upload a digital photo of the birthday honoree. And you're done! Take a peek at the finished product to proof it, choose how many invites you want to order and that's it. We'll ship them out to you the next business day and we promise you'll love them or your money back.