Most brides want the prestigious, sophisticated look of customer wedding invites, but find the high prices of custom wedding invites disheartening. Creating classy and sleek wedding invitations through Looklovesend is the perfect alternative for brides who want a gorgeous invitation, without the expense. On top of the amazing prices, Looklovesend offers brides a wide variety of sizes, colors, designs, themes, layouts, and quality papers to choose from when creating their invitations. No longer do you need to settle for an invitation you find in stores that you don't even like because it is convenient and cheap. You can literally create the invitation of your dreams. No hassle.
Truly Custom Wedding Invites From LookLoveSend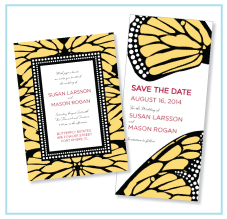 Custom wedding invites tend to not only be pricy, but are a hassle to order! The process of ordering custom wedding invites can take up to months for some brides who order from upscale bridal boutiques. Looklovesend ships all order the very next day and even offers free domestic ground shipping for order of 50 custom wedding invitation cards or more. If you are a bride facing a time crunch, there is no other option makes sense other than Looklovesend.
All brides have a personal and unique style. We try to cater to those brides by offering a variety of styles. Whether you are a traditional bride, a rockstar bride, a minimalist bride, or an extravagant over-the-top bride, there is something for you. Our customer wedding invites have been featured in reputable and respected bridal magazines such as BRIDES, FitPregnancy, and The Knot. When you consider price, quality of product, and flexible customer service, Looklovesend is the logical choice for your wedding invitations. We bend over backwards to make customers feel valued and appreciated. We have helped literally thousands of brides create a beautiful and sleek invitation that honors the most important day of her life!