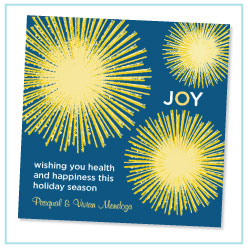 A traditional way to show your customers and business associates your gratitude is by sending out custom business holiday cards at the end of the year. It thanks them for their business and support during the previous year and keeps you in their minds for the coming year. Professionally printed cards can end up costing quite a bit. But you don't have to forego the practice just because of a tight budget. Just browse our cards to take a look at the great selection of holiday cards you can customize yourself, and at a fraction of the cost of what a traditional printer will charge.
Create Custom Business Holiday Cards
Budgetary concerns shouldn't mean you can't send out a remembrance to those important people at least once a year, so we've put together an incredible interactive website for unique holiday cards that allows you to pick a template, choose color combinations and personalize the text message on your cards. We even have a large selection of templates that allow you to upload a digital photograph. We work quickly, too, promising next day shipping on orders so that your custom business holiday cards arrive in plenty of time for you to send them out.
We only use the best inks and papers and we believe you should be 100% satisfied with your cards. That is why we guarantee all our cards and stationery. Quality and your approval are top priority with us. Let us help you uphold a tradition by assisting you with your custom business holiday cards. You can create remarkable, memorable cards with a few clicks of your computer mouse and have them on the way to you within 24 hours. Don't be surprised if you find what we've created together far surpasses anything you could get from a traditional printer. Once you've tried LookLoveSend, you'll be back for more.