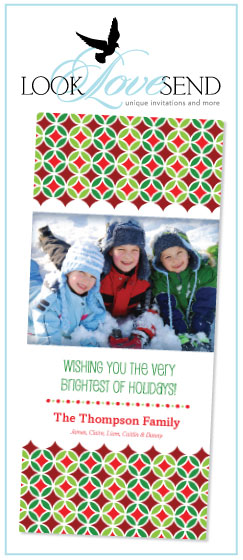 The holidays are a great time to reconnect with family and friends. Now is the time to create online Christmas cards to send your love ones through LookLoveSend. Perhaps you are tired of sending the same generic, standard Christmas and holiday cards year after year. Try making a personalized card online. The process is easy and simple, and most of the time cheaper than if you were to choose generic cards from the store.
You Can Create Online Christmas Cards Today
Our website allows you to choose from a variety of color schemes, temples, and designs. Do you celebrate Hanukah? No problem! We have cards for folks celebrating many different holidays. You can choose to have your cards printed on a variety of specialty paper, using only the best ink. Your card will look professional and put together, sure to impress your friends and acquaintances.
You may be thinking that you are not artistic enough to create online Christmas cards. Now you can be! The process of making cards through LookLoveSend is so straightforward and easy. If you can point and click a mouse, you can make a beautiful, elegant, and festive Christmas card. You don't even need to be artistic or creative.
We guarantee all of their products 100%, so you have nothing to lose when you choose to create online Christmas cards. All of the cards are shipped the next business day, so we are a great option for folks who have procrastinated their plans to make a Christmas card. LookLoveSend has appeared in many reputable magazines, which include The Knot, FitPregnancy, BRIDES, and many others. We specialize in all kinds of cards, including wedding, birth announcements, baby shower, and holiday cards – You can even create Christmas cards online easily.
When you send a Christmas card, you are representing yourself and your family to the world. Choose a classy, put together card for this upcoming holiday season through LookLoveSend.