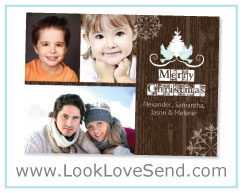 It's one thing to send out Christmas cards you've made yourself, but imagine how impressive it would be to send out professional, personalized cards made with our photo Christmas card templates. Including family photos when Christmas cards are sent out has been done for ages. Then the trend was to make the card from the picture. While a nice touch, having a photographer or a professional printer create those for you can get kind of spendy. But now you have LookLoveSend, the leading design-it-yourself invitation and card website, to help you—and make it affordable.
Check Out Our Photo Christmas Card Templates
We know what we like our holiday greetings to look like. We want a selection of color combinations. We want to be able to personalize the text on the card. And we'd like to be able to add a picture to complete the personalization. That's why we provide you with photo Christmas card templates and the easiest step-by-step specialization process available to create your own one-of-a-kind holiday cards. It takes next to no time to create a card—including uploading a digital photo–view the finished product and submit your order. We'll have your order completed and shipped the next day and we guarantee your satisfaction 100%.
The holidays are a special time of year. Show the people on your Christmas card list you care by sending the holiday cards you created using our photo Christmas card templates. They'll be amazed with the high quality Christmas cards with photos printing, paper and ink. And they'll never have to know that you didn't spend a fortune or a lot of time designing and producing your cards. As a matter of fact, you'll spend more time addressing the envelopes. Give yourself a break this year without skimping on the Christmas cards. Let us help make it the merriest Christmas ever.