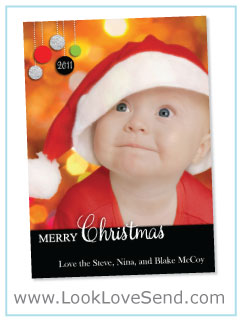 One of the best parts of the holidays is sending and receiving all of those great family Christmas cards. But this year, if you want to make Christmas photo cards of you and your family, you should try something a little different. Instead of going through a local shop to get your Christmas cards printed, or buying a new set form a retail store, you should look into making your Christmas cards online. When you make Christmas photo cards online, you have all of the creative power you need to get the card exactly how you want it to look, and you can use an online card maker to see what it looks like before you print it. No more having to wait for the printer to get all of your cards printed to see what they will look like; you get to know before you even print the first one.
You Can Make Christmas Photo Cards Online
The best place to make Christmas photo cards is right here at Look Love Send. We have been in the cards and invitations business for a long time, and we know exactly how to help you get the most out of your Christmas cards with photos. We have an extremely large inventory of cards and you can customize them to get exactly the look that you want. And since our inventory is so big, we can offer you such low prices that most stationary shop owners would faint over them.
So when it is Christmas time again, and you want to get the perfect Christmas cards out, you just need to think Look Love Send to get the cards you want. Go ahead, browse our web site a little to see exactly what we have to offer you. You will find cards that are appropriate for any family, and for any occasion.