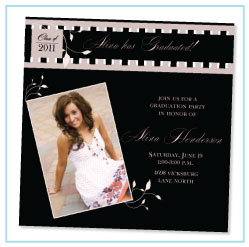 For an unforgettable announcement, have your graduate make graduation invitations online. Certainly the invitations that schools have printed are professional and serve the basic purpose of announcing that the grad has accomplished a commendable goal, but for a truly unique proclamation that will stand out from the rest, we can help. We have a wide selection of styles, color schemes and options that will show the world how very special the graduate and the occasion are.
You Can Make Graduation Invitations Online
It has become the custom to include a copy of the graduate's picture along with the generic, mass-produced announcement—incurring two costs, one for the card and one for the copy of the photo. We've combined the two together by providing a means to upload a digital photo of your grad to be printed right on the invitation. When you make graduation invitations online at looklovesend.com, you can create your invitation, see it before you place your order, and then be assured that your invitations will ship out the next day.
With several tasteful templates to choose from, you are sure to find the one that fits your graduate, whether you want to include a photograph or not. We use the paper and inks that we would use for our own invitations, so you know that they'll be of the best quality. And your satisfaction when you make graduation invitations online with us is just as important. That is why we back everything including our graduation invitations online with a 100% satisfaction guarantee. So drag your grad to the computer for a little quality time helping you design the announcements—or turn them loose to create on their own. Once a template is chosen, just a few mouse clicks and a bit of typing and it's done. What once might have been a dull invitation will now be a distinctive work of art.