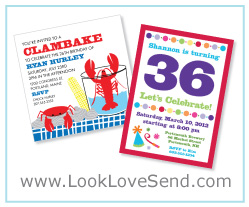 Wow your friends and family even before your next party by making customized invitations online. It's easy to do at looklovesend.com and there are so many templates and designs you'll never have to send out the same invitation twice. Don't underestimate the impact of opening a custom invitation, professionally printed and personalized for the occasion. When they open the invitation you made at LookLoveSend, it will be a preview of the special event that is to come, leaving no question that you're going all out to make it the party of the year.
Exceptional Customized Invitations Online For You
Consider comparing a generic invitation purchased in the card section of the grocery store with a custom invitation you made at LookLoveSend. The mass-produced invitation is probably cute enough, nothing on it displaying anything special, maybe just an icon or two that reveal that it's for a baby shower or a birthday party. Of course, all of the pertinent, personal information has been filled in with a ballpoint pen after receiving your online party invitations. But with the customized invitations online, the stunning design has been printed on high-quality paper with equally high quality ink in the color you've chosen. The date, time, place and honoree's name is printed in an elegant font, complimenting the motif on the card. And as a final touch, you've added a digital picture, definitively personalizing it in the ultimate way.
We know you have exquisite taste and we believe you should be able to find invitations that effectively represent you. When you make customized invitations online at looklovesend.com, we are so sure you will be pleased with the result that we back every order with a 100% satisfaction guarantee. We ship your order quickly, too, getting it out the next business day. Quality, quick service and your satisfaction assured is our guarantee that you'll visit looklovesend.com again and again.