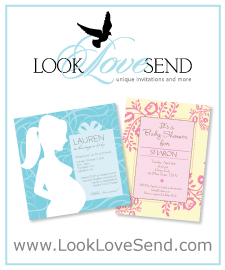 If you are hosting a small gathering, you may prefer to make baby shower invitations for the expecting mom, especially if you have a tight budget and lots of creative ideas to burn. On the other hand, if you're short on time or craftiness, you will find original, stylish invitations at LookLoveSend that you can order in quantities as low as ten.
Why Not Make Baby Shower Invitations?
The main reasons to make baby shower invitations aren't just about budget. Expecting moms want their baby shower invitations to be as unique and original as the new baby they are expecting. Those who host the shower also want to give her a stylish, beautiful shower she will enjoy, starting with the invitations. But today's resources for ordering shower invitations online offer so much more originality and style than ever before.
Stylish Selection
You'll find a large collection of unique, original designs at LookLoveSend. Designs come in many different styles to suit the tastes of moms everywhere, from hip and modern to sweet and timeless. Many designs can be ordered in several different color palates, not just the typical pink and blue for a boy or a girl. In addition, all designs have coordinating baby thank you notes, designed with the same graphic elements and colors as the invitations. Ordering these makes a great shower gift from the host who orders the invitations.
Easy Online Personalization
A big reason you may want to make baby shower invitations is to be able to make them highly personal, with details such as photos, monograms, or other added handmade touches such as stamping and ribbon. LookLoveSend makes personalizing their beautiful designs easy with their online customization and preview tools. You have additional choices such as font styles and coordinating patterns that print on the backsides of the invitations. With so many details to choose from, personalizing shower invitations online is faster and easier than making your own.