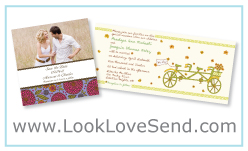 If you are a style-conscious bride planning a wedding and want the most original, unique look for your day, think twice about endeavoring to create your own wedding invitations. The labor and cost of materials may overwhelm your good intentions. Plus, with high quality Internet wedding stationery companies like LookLoveSend, you'll find a huge selection of original, unique designs that will set your day apart.
Create Your Own Wedding Invitations Through Customized, Online Design
Once you see our selection of unique wedding invitation designs, you'll likely scrap any ambitious plans for a DIY wedding invitation. Real artists from around the country create exclusive designs to suite a wide range of tastes. From traditional, formal designs to designs that are done in modern, whimsical and vintage styles, you'll find an invitation with the unique style for you.
You can customize your invitation with any one of the hundreds of designs available. Customizing your design is just like creating your own wedding invitations, except you do it online and in a fraction of the time. It's so easy! Start by selecting a design and choosing a color palate if there is more than one available. Edit the design with your own wording, select a font style and size, choose a paper texture, coordinating card back design and envelope liner, and you'll see just how unique yet professional your invitation will look.
Create Your Look with a Complete Wedding Invitation Suite
Once you create your own wedding invitations online with us, shop for the other components you may need for your special day. Complete wedding invitation suites are available for all our designs, including save the dates, reception cards, response cards, place cards, directions and menus, ceremony programs, and thank you notes. You can also choose to have your wedding shower invitations done in the same design!