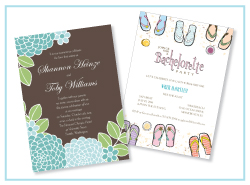 Today more than ever there are good reasons to make your own invitations online. Selection, personalization, and service have never been better! Internet stationery companies like LookLoveSend make ordering invitations online so easy and secure there's no reason to leave the house.
Styles Galore to Make Your Own Invitations Online
Planning a special occasion requires you give some thought about the style you want. Whether it's your own wedding, a friend's baby shower, or your parents' anniversary party, your event should have a special invitation that sets the right tone or suits a certain taste. The sheer variety of design styles available at LookLoveSend will inspire you to make your own invitations online. You can choose from among hundreds of styles, everything from traditional to modern, vintage or whimsical. There are also countless designs that blend these tastes or use a theme to inspire other elements for the event you are planning.
Personalizing your invitations online is easy to do. LookLoveSend uses the latest technology to upload a high resolution photo fast into a selected design. Customize your image further by positioning it properly into the design, or apply a different color treatment such as black-and-white or sepia tones for a timeless look. When you want to make your own invitation online, finding a design with enough room for your text is easy to do. LookLoveSend gives you a variety of font styles to play with, and you can re-size the font to make your text fit.
If you need more help, LookLoveSend's knowledgeable customer service team is always at the ready. Use the "special instructions" box on the customization screen to ask for help, or contact them toll-free or through online chat during normal business hours. You will always receive a proof of your order to approve before it prints. If you aren't completely satisfied, return the order for a full reprinting at no additional cost to you (other than shipping)–no questions asked!