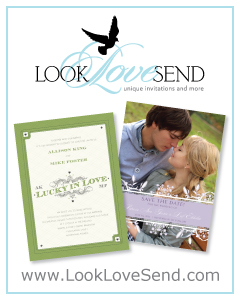 When planning a wedding, one of the first decisions you'll make will be to choose a wedding invitation design. Unlike setting the date and selecting a venue, finding a design for your wedding invitations is a creative decision. But it's one you'll need to make nearly as early in the wedding planning process, because you'll likely want to send out save the date cards six to nine months in advance, and the design sets a tone and personal style for the entire event.
Wedding Invitation Design Styles
If you're just beginning to plan your special day, choosing a wedding invitation design can feel overwhelming. Start by thinking about your personal taste, consider the season, time of day and mood of your wedding venue. Go online to browse a wedding invitation source like LookLoveSend, whose wide selection of styles will inspire you. Our coordinated designs comprise entire wedding invitations suites, which include all components you will need for your wedding stationery, from save the date cards through invitations, response cards, programs and more. Here's a look at some of the kinds of styles you'll see when shopping for your unique wedding invitation:
Traditional
Plain white or ivory with scripted black or grey font comes to mind, but today's traditional styles can have a more updated, contemporary feel using newer font styles, interesting ink colors or detailed borders.
Modern
Modern wedding invitation designs can be as formal as more traditional styles using simple, clean fonts, modern graphics or asymmetrical layouts.
Vintage
A vintage design usually has a historical or handmade feel, often borrowing elements from popular styles of the past. Vintage styles tend to be a bit less formal and can set a more casual tone.
Floral
You'll find a tremendous range in our floral designs, ranging from bold, splashy color to romantic, understated hues.
Personalized
You can personalize your wedding invitation design with a monogram, typically a couple's first name initials. Another increasingly popular trend is using a favorite photo, especially on a save the date card or wedding thank you note.