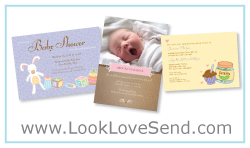 Ever had a friend whose good intentions were so overrun by a lack of organization and stick-to-it-ness that you found you had to make your own baby shower invitations at the last minute? What do you do if that kind of a friend wants to host your baby shower? You can't very well throw your own shower, so meet her halfway.
If you have a friend who makes a great hostess but a poor party planner, help her (and save yourself) by finding your own shower invitations online. You will be pleased with the high quality and easy ordering available at LookLoveSend, whose large selection of stylish, original designs can be easily personalized with photos, text, color and font choices to create unique invitations.
Make Your Own Baby Shower Invitations the Easy Way–Online!
LookLoveSend's easy online tools to make your own baby shower invitations are so easy to use:
Quick View
Click on an invitation design to see a larger image up close, along with Card Details such as design name, item number, designer, card dimensions, and paper color. If the design is available in more than one color, select a different color and see how the design changes on screen.
Customize Your Card
Start making your own baby shower invitation by selecting what type of paper stock you want it printed on, specifying whether you want  flat or folded invitations (if available), your quantity (order anywhere from 10 or more), and click anywhere that says 'Edit' to enter the details of your shower. Don't forget to include information about the baby registry!
Personalize the invitation too
Some designs can incorporate a photo if you wish to personalize the shower invitation even more. You might include a photo of the expecting mom or couple, an image of the baby's decorated nursery, or any other favorite image you wish. It's always a good idea to order extra envelopes too.