When you place an order with Looklovesend, you can now make your own birthday cards at the best prices found in stores and online. Creating your own birthday card is also more personal and results in a more professional, creative invitation as opposed to the generic cards you find in stores.
You Are Now Able To Make Your Own Birthday Cards with LookLoveSend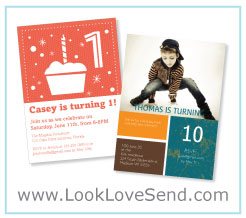 When you make your own birthday cards, you actually get a say in what you want your invitations to look like. Design the card to match the theme of your party. You can choose from a number of designs, templates, colors, and fonts. Are you planning a fancy, sophisticated party? Is your party more low-key and informal? Now you can tailor the invitation to fit the vibe of your party, instead of the other way around. Our customers find that the process of creating their own birthday cards is fun – even those who do not consider themselves artistic! Our website is easy to navigate so you can learn how to make birthday cards, simply point and click on what you want for your invitation. We put you in control.
Through Looklovesend, you can not only make your own birthday cards, but you can also create beautiful cards for all special events in your life, including holidays, weddings, graduations, and birth announcements. Many of our customers are so pleased after their first experience with us that they return for all of their invitation needs afterward.
If you have never thought to make your own birthday cards online, now is a perfect opportunity to try something new. The good news is that you have nothing to lose by trying us out. We offer a 100% satisfaction guarantee. For folks who are in a hurry, you will be glad to know that we ship all of our orders the very next business day, ensuring that you receive your order in a timely manner.