Are you hoping to send special picture holiday cards to your friends and family this upcoming season? Finding a personalized, beautiful holiday card that accurately matches your style and tastes can be difficult, especially when cost is an issue. Luckily, Looklovesend provides its customers with some of the best quality cards at an affordable price. Not only do we surpass the competition in quality and cost, but we also give our customers the opportunity to get creative. Too often we settle for uninspiring invitations found in drug stores or stationary boutiques that do not represent our personal style. When you create your cards through Looklovesend, you can get in touch with your creative side and make a card that fits you well. We do this by offering a variety of colors, styles, sizes, and themes. We offer customers a number of options, ensuring that they get exactly what they want and need.
Finding The Best Picture Holiday Cards Is Now Easier Than Ever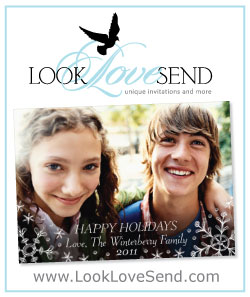 The holidays are a time to celebrate and reconnect with family and friends. Many folks touch base by sending picture holiday cards. In these tough economic times, too many individuals are opting not to send a holiday greeting cards because they simply don't have room in their budget. This is not necessary. Looklovesend has extremely great deals, ensuring that families on even the tightest budget can afford holiday cards this year.
The fact is, you have little to lose by ordering from Looklovesend for your picture holiday cards. We promise that our customers will be satisfied with their purchase, otherwise they can send their cards back for a complete refund. With a 100% satisfaction guarantee, you have nothing to lose. We also conscientious of time and ship all orders the next business day. Ordering through us is flexible and you risk nothing! Providing the best customer service and highest quality are our main priorities.