For original, inspired creative holiday cards, the only place to shop is LookLoveSend. Many times, correspondence and staying in touch throughout the year is limited to emails, texts and possibly a few phone calls. But when the holidays roll around, we know you want to put your best foot forward. For your holiday greeting, nothing but something totally unique will do, and that lies at the base of why we created LookLoveSend, just for you.
Experiencing Creative Holiday Cards That You Can Personally Make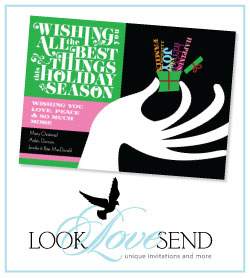 We know that your holiday cards need to be special, something out of the ordinary that can't be purchased from a shelf at the local stationery shop. That's why we've brought together the most talented designers around and paired their exceptional holiday templates with our top of the line inks and papers. We've also made available to you our exclusive software that takes you into the design process, allowing you to select color schemes, personalize the script on the card, and even upload a digital photo if you choose when you make holiday cards online. Nothing could be simpler and nothing impresses like the creative holiday cards you make at LookLoveSend.
Don't let another year go by sending out mass-produced, pre-packaged cards when you could be designing your own creative holiday cards with us. We promise to print your order with the best quality paper and inks and get them out in the mail to you the next business day. We also stand behind our jobs promising you a 100% satisfaction guarantee. You've got nothing to lose and only time to gain when you get your holiday cards at LookLoveSend. We make it so easy for you to set the trend in holiday greetings among your friends and family. Be the first in your group to design a distinctive holiday card with us. It certainly beats email!