Fresh, original, modern holiday photo cards can be difficult to find. Stores tend to carry the same, unoriginal designs at expensive prices. The lack of options can be frustrating. At Looklovesend, we aim to provide customers with the chance the be creative and design modern holiday photo cards that suit their individual desires. No more settling for cards you don't even like!
Getting Modern Holiday Photo Cards For This Season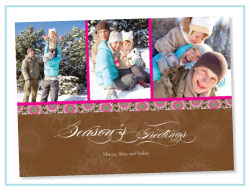 We pride ourselves in putting the customer first in all aspects. First of all, we print our cards with the finest, highest quality papers and inks. We give our customers options in card size, color, font, and design. Customers who would never describe themselves as artistic or creative are amazed at what kind of designs they are able to come up with. Our website is easy to navigate. Folks can actually search for invitations based on the color or size they desire. We make the process fun for our customers.
Another reason why so many folks choose Looklovesend each year for their modern holiday photo cards is because of our customer service and commitment to providing outstanding care to each individual customer. In fact, we back all of our orders with a 100% satisfaction guarantee. In addition, we offer free shipping on domestic orders of 50 cards of more when you make holiday cards with us. If you have never ordered cards online and feel a little weary, keep in mind that you have nothing to lose by trying us out! We know that time is of the essence during the holidays, so we ship all of our orders the very next day.
If you are looking for a way to set yourself apart from your friends this holiday season, try ordering modern holiday photo cards online. They are affordable, easy to order, and give you a chance to be creative!