Birth announcements online is the only way to go anymore in getting the good news out. When it comes time to herald the arrival of the newest member of your family, come to LookLoveSend to create a fitting announcement worthy of your baby. It's such a special time, such a special event, the cards you send to publicize the joyful event should be no less special. The invitation is open to partner with us to design and print the announcements for the birth of your child.
Choose Design For Your Birth Announcements Online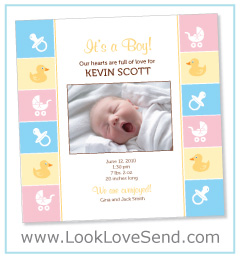 Because you'll find us online, it goes without saying that we're open 24/7/365. Any time of day or night is the right time to browse the numerous templates we've assembled. Our user-friendly software will guide you through creating birth announcements online and in no time you'll have a one of a kind announcement prepared for printing and ready to send to friends and family. The steps are as simple as 1, 2, 3: #1—select a template that perfectly fits your newborn, #2—personalize it with your baby's name, weight and measurements and, of course, his birth date, and #3—proof your finished card and submit your order. We even have templates for you to upload a digital photo, creating an exceptional keepsake with your baby's picture.
We know how important the online birth announcements of your baby's birth should be. That is why we promise to use only the best quality paper and inks when printing your cards. And we'll get them to you straight away—cards are always shipped out the next business day after an order is placed. With our 100% satisfaction guarantee, there really is no place to create birth announcements online other than LookLoveSend. Just give us a try—you'll see how simple, affordable—and beautiful—online birth announcements can be.