Having a baby is a special occasion that you want to celebrate with everyone, and one of the best ways to do that is with birth announcements. But unique birth announcements are hard to come by, how can you make your birth announcements stand out from the crowd? The usual answer is to include a picture of your new baby boy or girl with the announcement, but you can do even better than that. The do it yourself method is a great way to create unique birth announcements, but investing all of that time into making the announcements is extremely difficult for adults without children; when you have a new baby needing you all the time it is almost impossible.
At LookLoveSend We have Unique Birth Announcements For Your Needs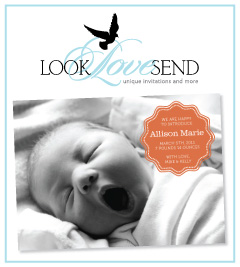 That is why LookLoveSend is here to help you. You can create your unique birth announcements online and get that do it yourself look without spending the time it would normally take. The way it works is that LookLoveSend has an online announcement maker. You can start with a template or even with your own child's photo, and build custom birth announcements from there. You can see exactly how something looks with a particular font or size of picture immediately; no more having to print a test or imagine how two things look together.
LookLoveSend is the best way to create a beautiful announcement that will make for a lasting memory. The best part is that you save time and money going with LookLoveSend instead of making those announcements yourself or buying cards from a stationary shop. Make sure to go with LookLoveSend for all of your cards and invitations needs: we can help you make anything from wedding to birth announcements and even birthday party invitations and religious occasions. Why spend extra time and money if you do not have to? If you need invitations, just go with LookLoveSend.