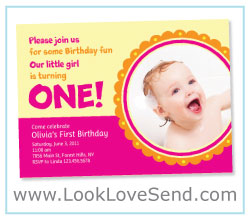 You don't need an ounce of creativity when you go online for birthday cards to make invitations for. We've done most of the work for you, enlisting the top card designers to create unique designs for birthday invitations that you can personalize. With the resources we provide to get the ball rolling, you'll probably find you are more creative than you thought. Once you've chosen the perfect template and started our quick and easy step-by-step design process, you'll wonder why you haven't made your own invitations before.
Many Birthday Cards To Make For Friends and Family
It's nice to be able to incorporate the party theme into the invitation and that's one of the key reasons that we have become the premiere website for invitation birthday cards to make. Whether it's a party for baby's first birthday, a child's or teen's party, a barbeque, dinner or surprise party, you'll find the best invitation for your event on our site. The templates are easily searchable so you won't spend hours going through pages and pages of designs that don't fit your needs. And once you do find that perfect template, you can quickly select the color scheme, personalize it by entering things like date, time, place, and of course the guest of honor's name. We'll even help learn how to make birthday cards by allowing you to upload a digital photo for the ultimate personalized card.
Knowing that we only use the best inks and papers and that we guarantee your satisfaction 100%, there's no reason not to give us a try. We promise to ship your order the next day. The worst thing to happen might be that you'll get addicted to designing invitations. Wouldn't that be something if all your friends and family came to you when they wanted special invitations made? And just think: it all got started because you were looking for birthday cards to make.