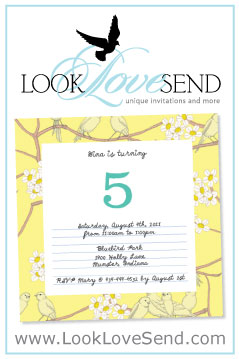 If you are planning a birthday party for a friend or yourself, happy birthday online cards through LookLoveSend are a great way to go! Now you can actually design your own birthday cards online, and you don't even need to be artistic. The website actually walks you through the process, resulting in beautiful, personalized, and unique invitations.
You Can Create Happy Birthday Online Cards
There is no reason to buy generic birthday cards from the store. Store bought cards are boring and outdated. They are impersonal and don't allow for any creativity. You may think that buying store bought invitations will save you money. You may be surprised to learn that this is rarely the case. Happy birthday online cards are cheaper in some cases. You not only save money but the process of creating your card is fun. You can pick from a variety of color schemes, designs, templates, and specialty papers. We use only the best quality papers and inks, resulting in a professional and eye-catching invite. Whether it is a kid's birthday party or an adult's birthday party, we have the appropriate cards for you and a great way to make birthday cards online.
One of the best features of LookLoveSend is that all of the cards 100% satisfaction guaranteed. In addition, all the cards are shipped the next business day. We offer free domestic ground shipping on orders of 50 cards or more. Customers have nothing to lose by going through LookLoveSend for their birthday party. When it comes to your special event, you don't want to trust just anyone. A special event deserves a special invitation. LookLoveSend has an amazing reputation and has appeared in reputable magazines such as The Knot, FitPregnancy, BRIDES, among others. We not only supply happy birthday online cards, but stationary for your upcoming wedding, birth announcement, baby shower, and holiday card.