Nothing brightens the holidays or spreads the cheer like personalized Christmas card photos. You know, those merry little holiday greetings you get with pictures of friends or family incorporated right into the card itself. If you've ever wanted to send such a card at the holidays but weren't sure how to go about it, or if you talked yourself out of it, thinking that such a personalized item would surely be expensive, then you absolutely need to examine the Christmas card pages at LookLoveSend. We have a large selection of Christmas cards, including those unique ones that allow you to upload digital pictures.
Creating The Best Christmas Card Photos To Send Out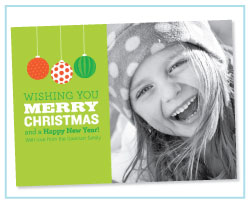 The great thing about these types of holiday greetings is that with LookLoveSend you'll get professional quality cards displaying Christmas card photos that will no doubt become keepsakes, pictures that friends and family won't hesitate to slide right into the photo album alongside the other countless treasured pictures. And you can count on that quality every time when you order cards from us. We use only the best quality inks and papers, meaning your cards—even the ones with photos—will always look professionally printed. It's almost never too late to order from us, either. We ship out orders the next business day every time so that your cards arrive in time for you to address them and send them out.
Give our card design software a try. It is so easy to select the perfect Christmas card template for our variety of exceptional designs. Add in some personalizing information like your family's name or a custom message from your family to theirs in your Christmas cards with photos. The final stop is to upload your Christmas card photos and then proof your work. Just a few simple steps and you'll be getting your Christmas cards within a few days. Make your holiday cards one-of-a-kind this year with LookLoveSend.