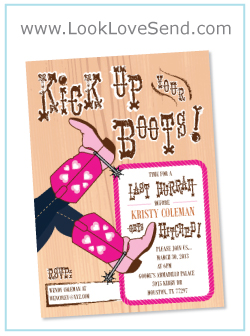 Are you looking to create your own invitation card online? LookLoveSend is the perfect spot for you to create all of our invitations, stationary, and cards at an affordable price. There is a reason why folks continue to use us for their baby shower invitations, wedding invitations, birth announcements, and more!
Choose To Create Your Own Invitation Card For An Event
One of the main reasons why customers use us time and time again is because we offer the chance for them to get creative. Our cards are unique and selection plentiful. We offer cards in a variety of sizes, on only the highest quality paper. You can choose from glossy photo-finish or smooth matte. We make an effort to offer a variety of options so our customers can create their own invitations and find exactly what they are looking for. We also use high grade ink on your invitations.
Let's face it. Sometimes in life we all get behind and find ourselves scrambling last minute to put together that baby shower for a friend or send out graduation announcements. No problem! When you create your own invitation card with us, we ship orders out the next business day. We are so confident that you will be happy with your purchase that we offer a 100% satisfaction guarantee.
We are a trusted company that has been mentioned in reputable magazines such as Brides, Parenting, The Knot, FitPregnancy and others. We have also been mentioned on ABCNews and NBC.
If you are looking to create your own invitation card or want to send out a family holiday card, we are the easy, least expensive company to place an order with. Whether you are artistic or not, you will enjoy creating a card that represents your style, personality, and tastes. And with a 100% money back guarantee, you have absolutely nothing to lose!