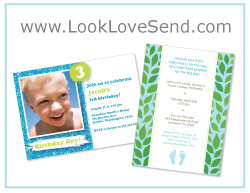 You have a lot of options if you want to create your own invitation cards, but a lot of those options can leave you desiring. The problem with going to a stationary store is that they are simply too expensive today and you cannot customize your invitations the way you want to. You are always limited in what you can do because of their limited selection. And seeing what a particular invitation looks like with a font or picture is very difficult because they have to print out a sample or you just have to use your imagination. When it is time for you to create your own invitation cards the answer is simple; just think LookLoveSend.
Easily Create Your Own Invitation Cards Online
The right tools make every job easier, and when you create invitations at LookLoveSend that is exactly what you have. The online invitation maker you can use here is easier than every other tool available. Our online tools to create your own invitations allow you to see every single change you make in your invitations almost immediately; compare that with how long it takes to get a sample card from a stationary shop and it is already worth your time to make your invitations here. And since you are going to get the highest quality paper for your invitations there is really no question about the best place to get what you need.
But the advantages do not stop there. Here at LookLoveSend we believe in giving you everything that you need to make your invitations as good as possible. That means you can buy whatever amount of invitations you need at a great price. Whether you need a few invitations for an intimate gathering or are sending a few hundred invitations for a wedding announcement when you need to create your own invitation cards there is really only one option that you need. And that option is to get your cards from us at LookLoveSend.