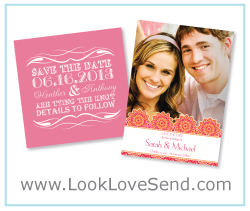 A great party starts when you create your own invitation online at looklovesend.com. The right invitation is the cornerstone of any successful event so we assist you in maximizing that success by helping you craft unique and professional invitations with our user-friendly software. Before the guest list is even started, you can come to LookLoveSend to start fashioning the perfect invitations to let everyone know this will be the event of the season. No accessories required, just bring your creativity. And don't worry if you've got a short supply of that. All it takes is one look at our professionally designed templates to spark the creative genius inside you.
Create Your Own Invitation Online For Less
No matter the occasion, you can create your own invitation online at looklovesend.com. Weddings, baby showers, birthdays, anniversaries—make them all extra-special by designing a distinctive invitation rather than sending out a generic, mass-produced invite. Even if you are short on time, that's no reason to skimp on the party announcement. We will ship out your order the next business day, promising to use only the best paper and inks and guaranteeing your satisfaction. With the level of quality LookLoveSend provides and such quick service, there's nothing standing between you and the invitations of your dreams.
Declare to the world how important your next event really is. Settle for nothing less than the best invitations, ones you make at looklovesend.com where you can create your own invitations easily. The only thing you may need to have reservations about is how addictive it can be to design one work of art after another. Who knows? Maybe your friends and family will be so impressed, they'll soon have you making invitations for them, too. It's all about making a good first impression. Clothes may make the man, but invitations make the party. Create your own invitations online every time at LookLoveSend.