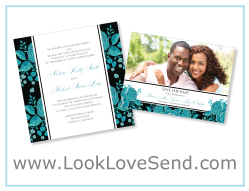 You'll be getting more than just a simple announcement when you make wedding invitations online at looklovesend.com. Simple doesn't even begin to describe the professionally designed and printed announcements you'll have the pleasure of creating on our site. You'll choose from a wide selection of designer templates, and that is just the beginning. You'll go on to customize the colors we'll use when printing your invitation and you'll have your choice of card stock, too. And why not upload a digital photograph while you're at it?
Easy To Make Wedding Invitations Online Today
At looklovesend.com we don't just stop with invitations, either. When you make wedding invitations online with us, you can coordinate all of the wedding stationery into the wedding invitation design. We have save the date cards, response cards, direction cards, programs, and thank you cards for you to send out afterwards. We make it so easy to mix and match all of the stationery, you'll never again consider a local printer. Why would you, when looklovesend.com can offer a variety of designs and help you to personalize them with ease from the comfort of your own computer?
You can be assured that we will use only the best quality paper and inks when we print your wedding announcement and matching cards. We know how important your special day is and want as much as you do to make it exceptional in every way. When you come to LookLoveSend to make wedding invitations online you'll come away with invitations that you will be proud to send to your friends and family, and just as proud to claim the credit for. We've put doing it yourself on a whole new level and we do everything to ensure you'll be happy with the outcome, including shipping out orders the next business day for timely delivery as well as backing your order with our 100% satisfaction guarantee.