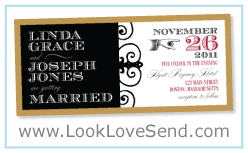 If you have always wanted to create wedding invitations online, it has never been this easy! You can design invitations that fit your particular style and personality. You no longer have to settle for boring and generic wedding invitations found in stores or overpriced bridal stationary stores. Whether you want to keep it traditional and classic, or your style is more fun and creative, we offer some of the lowest prices available both in stores and on the web! Create wedding invitations online with us today!
Create Wedding Invitations Online With Our System
We offer a variety of different sizes, colors, designs, and layouts for you to choose from. We use the best quality paper and ink in printing your wedding invitations. We print on durable cardstock, so the final product is smooth and sleek. We offer glossy and smooth matte photo paper. We can do bridal shower announcements and thank you cards in addition to your wedding announcements and invites. When you use us to create your own wedding invitations, it is one-stop-shopping.
Ordering from us could not be easier. We ship all of your orders the next day after you order, and we offer a 100% satisfaction guarantee to you. You will be hard pressed to find another stationary company that offers that kind of flexible return policy. We are the perfect choice for folks who are pulling off weddings in a short amount of time. On orders of 50 cards or more, we offer our customers free domestic ground shipping.
We have appeared in many popular magazines such as BRIDES, FitPregnancy, and The Knot. We are reputable and well-known. Our satisfied customers continue to use us, not only to create wedding invitations online but also to create graduation invitations, birthday invitations, and baby announcements. When you create wedding invitations online through us, you receive exactly what you need.